Cheraw is Dizzy with Jazz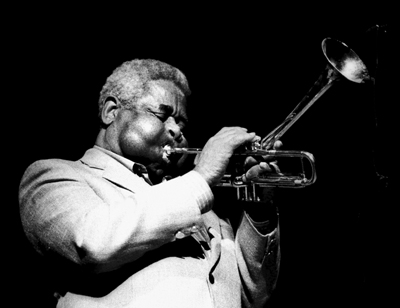 John Birks "Dizzy" Gillespie
Not many towns can boast of having a native son that was invited to perform at the White House by eight presidents from Dwight Eisenhower to George Bush.
Jazz king John Birks "Dizzy" Gillespie was born in Cheraw in 1917. "Dizzy" was a founder of modern jazz, an innovative trumpeter known for his bent horn, bulging cheeks and sense of humor. Gillespie, who was famous around the world, almost always opened his performances with "I'm Dizzy Gillespie from Chee-raw, South Carolina."
On the 85th anniversary of his birth, a seven-foot bronze statue of Gillespie playing his trademark bent horn was erected on the Cheraw Town Green. The Dizzy Gillespie Home Site Park also celebrates Cheraw's most famous son. The park features modern sculpture, eclectic stainless steel benches and a funky stainless steel fence.
South Carolina Jazz Festival October 16-18, 2020
Tickets will be available at the Market Hall ticket venue
During the festival weekend, tickets and souvenirs will be available at Market Hall (corner of Market and Second Streets) Friday 2:00 pm-6:30 pm and Saturday 10:00 am-6:30 pm. Call 843-537-8420 ext. 12 for more information.